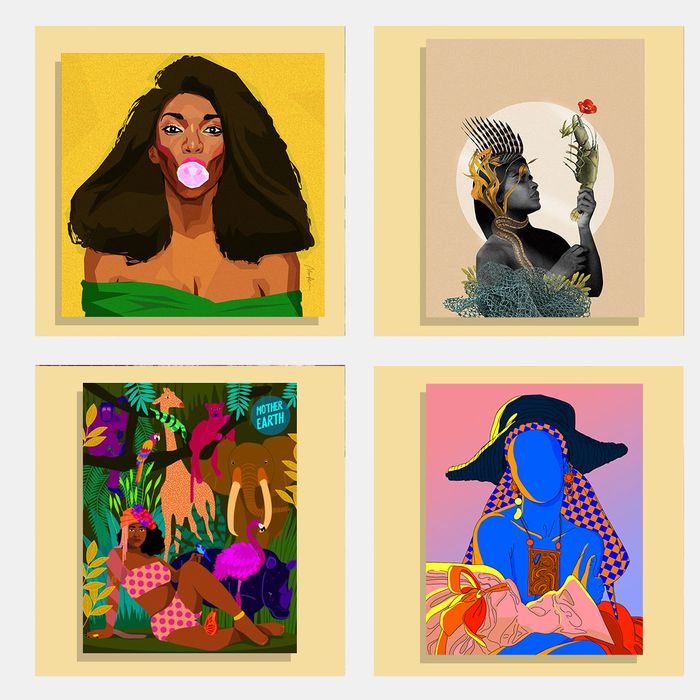 Dominique Pariso is passionate about hunting for the lipstick that Navarro cheerleaders wear, the coolest plus-size jeans, and the next status candle. She is also a part-time dog-sitter.
Photo: retailers
After staring at the same four walls for the past six months, we wouldn't blame you if you've decided you need a serious zhuzh in the wall-art department. We also wouldn't blame you if, after largely being stuck within those walls you've been staring at, you are lacking inspiration in terms of where to find things to display on them. To help you find the perfect piece, we perused the offerings of 31 Black illustrators, painters, and photographers to find prints and original artworks you can buy. (If your walls are, well, covered, we should note that any of these would also make a great gift for someone else.) Some of the things below come recommended by colleagues in New York Magazine's art and photography departments; some come from makers featured on our growing list of Black-owned businesses to shop at; and others come from scrolling through curatorial Instagram accounts like Muse Origins and It's Nice That, as well as through our own feeds. While what's here is just a toe dip into the world of Black-made wall art, we'll continue to keep our eye out for more eye-catching pieces and update this article when we find them.
Kenesha Sneed is a multidisciplinary artist who makes art, ceramics, and textiles under the name Tactile Matter. We think this calming, meditative design would add a soothing element to pretty much any room, although it may be especially functional hung within eyeshot of wherever you answer emails. The print itself is currently sold out, but you can still get different sizes of it framed (hence the higher price) with UV-shielding plexiglass, archival acid-free foam-core backing, wall bumpers, and hanging hardware.
From $45 at Tactile Matter
Buy
Shantell Martin is an artist and adjunct professor at NYU who has had solo shows at the 92Y gallery, Albright-Knox Art Gallery, and MoCADA museum; she has also collaborated with brands like Nike and Tiffany & Co. and cool people like Kendrick Lamar and interior designer Kelly Wearstler. This print featuring her signature black-and-white linework is signed and numbered. It also comes framed, so you can hang it as soon as it arrives.
$350 at Shantell Martin
Buy
Photo: retailer
New York Magazine photo editor and digital illustrator Lyne Lucien loves Monica Ahanonu, a Los Angeles–based illustrator known for her Pop Art–style portraiture who recently published her third book of portraits, Icons: 50 Heroines Who Shaped Contemporary Culture. Via her Etsy shop, Ahanonu sells prints of her portraits — some of which are featured in the book — that depict such notable folks as Diana Ross, Rihanna, Britney Spears, Tracee Ellis Ross, and Michaela Coel (seen here).
Photo: retailer
According to her site, London-based illustrator and maker Naomi Anderson-Subryan is "a kitsch enthusiast, lover of color, and collector of bric-a-brac." Her cheerful ceramic pieces and prints often include animals, like this one featuring a fancy poodle that Liza Corsillo — Strategist writer, resident artist, and poodle owner — is longing for.
$19 at Naomi Anderson-Subryan
Buy
Corsillo also told us to check out New York City–based illustrator Daniel Fishel's work. It can be found on tote bags, apparel, stickers, face masks, and, of course, prints — like this lighthearted design that is just asking to be hung on a blank wall in a kitchen.
Photo: retailer
In addition to her woven pieces, textile artist Avery Williamson — whom Strategist junior writer Kayla Levy interviewed for our story about what you need to get into weaving — also sells handmade earrings and original paintings in her Etsy shop. This abstract one is aptly titled Fighting and Laughing and Plotting in Quarantine and has enough visual interest to hold its own on any gallery wall.
Photo: retailer
Over at the Cut, Andrew Nguyen covered a "pro-sex, anti-fascist" print sale organized by do-good organization Towards Utopia. According to him, the sale's proceeds will benefit three grassroots organizations: G.L.I.T.S. (Gays and Lesbians Living in a Transgender Society); SWOP Brooklyn, which provides financial assistance to sex workers in New York City; and For the Gworls, which raises money for Black trans people's rent and gender-affirming surgery. This Marie Antoinette–inspired portrait of model < a href="https://www.instagram.com/remyisthenewblack_/?hl=en">Remy Black — one of 26 prints from the sale — is by sarah huny young, whom Towards Utopia calls "an award-winning visual artist primarily documenting and exalting Black womanhood and queer communities through portraiture and video."
From $50 at Towards Utopia
Buy
From $48 at Don't Sleep Interiors at Etsy
Buy
Artist Justina Blakeney, the founder of Jungalow (which sells housewares we've featured in roundups of living-room décor, affordable gifts, and ceramics), makes and sells lots of colorful prints too. We like this one because it feels just trippy enough and would be a nice way to get some greenery into any homes that lack a green thumb.
Photo: retailer
Speaking of just trippy enough, this print inspired by the FKA Twigs album Magdalene comes suggested by New York Magazine's art director and visuals lead, Stevie Remsberg. Blacksneakers is a North Carolina–based illustrator and painter whose work has also been featured on the Cut. Her art — which typically features figures in vibrant colors — is available to buy on her site in the form of prints, original paintings, and even tattoo designs.
If you want something that isn't a regular print, Cynthia Gordy Giwa, co-creator of the digital publication Black-Owned Brooklyn, told us she has this pennant from textile artist Rochelle Negron hanging in her living room. "You can celebrate that you're still here, and you can show up even when it's hard," she says. "It's been a very grounding and centering meditation for me to sit with at this time."
$75 at Rayo and Honey
Buy
This geometric print, also recommended by Remsberg, comes from Instagram-famous artist KaCeyKal! It has a Matisse-but-cooler quality to it, likely because we haven't seen it hanging in everyone's apartment (yet).
Even if it doesn't take up too much real estate, Amina Mucciolo's rainbow-colored artwork is a surefire way to brighten up any room. Really, who wouldn't want to start their day with a glance at this psychedelic print featuring an optimistic little mushroom?
$35 at a rainbow in your cloud
Buy
Form No Form is a visual platform focused on celebrating artists of color who work in a variety of mediums. Part of the Somewhere Good family of brands (which also includes Ethel's Club, a social and wellness organization we've written about), Form No Form is based in New York City and currently features the work of multidisciplinary artist Jaleel Campbell on its site.
From $100 at Form No Form
Buy
Also from Form No Form, this more abstract collage-style print is another artwork we can see as part of a gallery wall. The brains behind it is multidisciplinary artist and creative director Jessica Udeh, the woman who founded Chiamaka Studios.
Photo: retailer
Edward Cushenberry's website describes him as an artist who "splits his time between photographing his life and drawing everything else that's going on in his world, in an attempt to merge real life with romanticism." This original drawing by Cushenberry is available at Medium Tings, a digital exhibition space dedicated to showcasing contemporary artists of color. As the series it comes from suggests, the artwork — which depicts an intimate snapshot of a woman — is just 3.5 inches by 4.25 inches, or the size of a Polaroid.
Artist Afritina Coker, who, with her husband, co-founded the Dallas-based creative agency Coker Studio, "specializes in art, fashion, and commercial portraiture," according to her website. Coker's "Same Garden, Different Flowers" is one of a few shoppable series of works on her site; it features 10 different shots of two sisters. We like the symmetry of .07, which depicts the two women leaning against each other while draped in tulle.
From $50 at Afritina Coker
Buy
Jade Purple Brown describes herself as a "color-obsessed artist creating new, dynamic worlds of optimism and empowerment." This illustration of a topless body about to take a dip is a great pick for those who are never really ready to let go of summer.
From $60 at Jade Purple Brown
Buy
For the sneakerhead, here's a highbrow homage to Nike. Its creator, Jasmine Durhal, is a professional photographer who has worked with that brand along with the Lip Bar, Adidas, and Essence. In addition to selling her prints, Durhal makes photography-lesson videos for beginners that she shares on her YouTube channel.
Photo: retailer
Designer and illustrator Natasha Cunningham's ongoing series "A Portrait Design a Day" is, well, exactly as it sounds. She creates a new digital-collage portrait daily, and they often feature figures mixed with images of the natural world.
$40 at Portrait Design Co.
Buy
This cheery poster, which serves as a visual reminder to trust your instincts, would make a great addition to a home office. It comes from Brooklyn-based artist Lo Harris, who says she "creates work that empowers women through celebrations of self-love, self-compassion, and sisterhood." Harris sells her work through Society6, which makes prints to order to cut down on waste.
Photo: retailer
Aurélia Durand illustrated the cover and images for the recently published This Book Is Anti-Racist (and has worked with other brands including The New Yorker, VICE, and Instagram, to name three). This print exemplifies her use of vibrant colors to create works Durand describes as "a vivid celebration of diversity" that "represent Afro-descendants as joyful, proud, and empowered."
From $84 at Red Bubble
Buy
We love these slightly sassy oranges from Kendra Dandy, who also sells her made-to-order works on Society6. In addition to offering her work in the form of prints, Dandy's creations can also be purchased on phone cases, pillows, tote bags, mugs, and masks.
Photo: retailer
Bianca Fields is a contemporary painter who hails from Cleveland and is currently based in Kansas City. According to Fields's website, "she often pulls her source of imagination from the expression of the childhood cartoon world, seeking to create visual noise and tension within her paintings," like this original acrylic piece that depicts two cackling creatures.
You may recognize Shaneé Benjamin's distinctive style from places like Refinery29, Cosmopolitan, and Twitter, all of which publish her illustrations. Those who'd rather not frame a Benjamin piece published elsewhere can also find her stuff on Society6. This small print, which features two lovers intertwined, comes framed.
Remsberg also told us about Sabrena Khadija, a visual artist who specializes in digital illustrations and screen and risograph printing (the latter, to the unfamiliar, being a stencil-and-ink method of duplicating images). We think any of the affordable 12 prints from her "Zodiac" series, like this Aries risograph, would make for a great gift or an easy way to zhuzh up a smaller space like a bathroom or reading nook. If you're not into astrology, Khadija also designed a line of prints for the Parks Project, the sales of which go toward preserving and protecting parklands across the country.
Photo: retailer
If you want to invest in an original piece instead of a print, Remsberg suggests splurging on one of Heather Polk's striking (and kind of Irving Penn–esque) floral collages. To offset the price, the artist includes a framing mat and board with purchase (but you'll have to buy a frame separately).
$475 at PxP Contemporary
Buy
New York Magazine associate art director Aaron Garza is a fan of artist Rachelle Baker, whose illustrations you might recognize from (virtually) browsing covers at your local bookstore. We like the bold contrast of this print's orange and green palette.
Photo: retailer
New York Magazine associate photo editor Graylen Gatewood pointed us toward Charm and Hex, a screen print by artist Cauleen Smith, whose solo show "Cauleen Smith: Mutualities" was recently exhibited at the Whitney. This print was produced on the occasion of Printed Matter's 2019 Spring Dinner Party; only 30 were made and all are signed and numbered. For more art by some of Smith's contemporaries, Gatewood told us that Aperture also sells prints (prices for which are available by request) from its exhibition "The New Black Vanguard: Photography Between Art and Fashion," which includes works by Campbell Addy, Arielle Bobb-Willis, Quil Lemons, Namsa Leuba, Renell Medrano, Tyler Mitchell, Jamal Nxedlana, Daniel Obasi, Micaiah Carter, Adrienne Raquel, Dana Scruggs, and Stephen Tayo.
$500 at Printed Matter, Inc.
Buy
Photo: retailer
Another screen print that Gatewood told us is on sale at Printed Matter is this one by artist Laylah Ali, who has had solo shows at the Museum of Modern Art, the Institute of Contemporary Art in Boston, the Museum of Contemporary Art in Chicago, and was included in the 2003 Venice Biennale and the 2004 Whitney Biennial. There are only 100 editions and, like the Smith print above, each comes signed and numbered.
$100 at Printed Matter, Inc.
Buy
Richard A. Chance, a favorite of both Lucien and Remsberg, has created works for no less than our esteemed colleagues at Vulture. While his online shop is currently sold out, we suggest keeping your eye on it for restocks, since his prints (like this out-of-stock one of a lizard getting a pedicure) are unbelievably delightful — not to mention super-affordable.
$12 at Richard A Chance
Buy
Actually good deals, smart shopping advice, and exclusive discounts.
Terms & Privacy Notice By submitting your email, you agree to our
Terms
and
Privacy Notice
and to receive email correspondence from us.
The Strategist is designed to surface the most useful, expert recommendations for things to buy across the vast e-commerce landscape. Some of our latest conquests include the best acne treatments, rolling luggage, pillows for side sleepers, natural anxiety remedies, and bath towels. We update links when possible, but note that deals can expire and all prices are subject to change.